Date/Time
Date(s) - 09/10/2016
2:00 pm - 4:00 pm
Location
Pilates Center of Rockville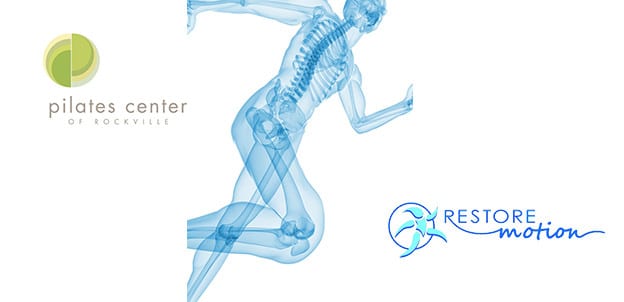 What if you had a medical condition that you could reverse or prevent entirely? You would absolutely do it! Studies suggest that 1 in 2 women and 1 in 4 men age 50 and older will have an osteoporosis-related fracture in their lifetime. The beauty of the body is that bone is living, growing tissue that changes throughout our lifetime, which means that even if you already have osteoporosis or osteopenia, it's not too late to reverse bone loss and start building healthy bone. Research shows that exercise can strengthen bones. However, only specific types of exercise have been shown to stimulate bone formation. Pilates incorporates many of the principles found to be helpful in the recent osteoporosis research.
Stephanie Bloom, MSPT, of Restore Motion Physical Therapy and Aliyah Hardy, PMA Certified Pilates Teacher, of Pilates Center of Rockville are teaming up for this workshop. In this workshop, we will learn about how exercise affects bone health, discuss concepts for developing an appropriate and safe exercise program for those with osteoporosis/osteopenia, and learn, observe and perform specific Pilates exercises on mat and equipment that are especially effective for improving bone strength, preventing further bone loss and reducing the risk of fracture.
This workshop is open to all levels.  No experience is necessary.  
Click Here to Sign Up for the Workshop.
Where:      Pilates Center of Rockville
Address:   5751-D Fishers Lane
                   Rockville, MD 20852
When:       Saturday, September 10, 2016
Time:         2:00pm – 4:00pm
Cost:          $45