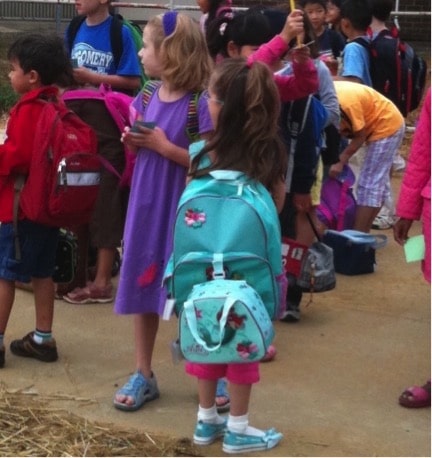 What to look for in a Backpack:
Wide, padded shoulder straps distribute the weight over a larger area around the shoulders. This avoids that "cutting into the shoulders" feeling.
Chest and waist straps also help distribute the load of the pack. Use of a chest strap (and/or waist strap) decreases load that would completely weigh on the shoulders if it were not used.
Padded back cushions the load as it rests on the back. Some backpacks feature no padding directly over the spine – This is favorable because it creates a comfortable "cut out" for the spine bones. It decreases load contact directly over the "spinous processes" of the bones.
Multiple compartments even out the load and are preferable to one large cavernous compartment. It makes retrieving items easier as they don't all fall into one single "pit" of the pack.
Consider the size of the backpack wearer—the overall length of the backpack should not go below the waist of the wearer. Appropriately sizing the shoulder straps to distribute weight evenly over both shoulders and using the chest or waist strap can help the pack sit at the waist of the wearer.
Wear the pack with both shoulder straps not just one strap over one shoulder—Really! Wearing the pack on one side contributes to neck, shoulder and hip strain in addition to back pain.
Avoid filling the pack too full. It is too full if the wearer has to lean forward to bear the weight. This can contribute to bad posture and back pain. Full packs can cause havoc when the wearer turns and unknowingly knocks into people or priceless artwork.
Rolling packs have their advantages and disadvantages as well:
Some school lockers aren't big enough to accommodate the rolling packs.
Need to be carried over stairs or rough terrain.
May be a trip hazard.
When using a rolling pack remember to switch arms frequently and to engage core/abdominal muscles to balance the strain on the body.
Written by: Miriam Graham, PT