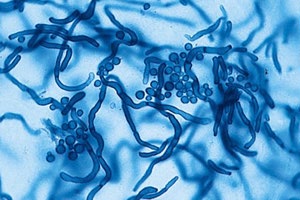 Malassezia spp. Skin Microbiome. https://skinmicrobiome.wordpress.com/tag/malassezia/
MAPP (Multi-Disciplinary Approach to the Study of Chronic Pelvic Pain) Finds That Fungus In Urine Might Be Linked to Urgency and Pain.
One of the most promising lines of research in urology today is the study of the biome, the diverse population of bacteria and fungi that live harmoniously in the human body. In previous MAPP Research Network studies, IC patients were found to have high levels of candida/fungi in their urine during flares (1). Another found that IC patients are deficient in some important bacteria in our bowel while having higher levels of other harmful bacteria (2). This latest MAPP Research Network study now links changes in fungal communities with the symptoms of urinary urgency and pain (3).
Researchers obtained urine specimens from 12 IC patients, 17 Over Active Bladder (OAB) patients and 14 patients without urinary symptoms. DNA was extracted, deep sequenced and compared to multiple fungal sequence databases. They found that patients with more severe symptoms, regardless of the symptom type, had decreased fungal diversity. Individual symptoms were associated with distinctive species of fungi. Patients with severe bladder pain had altered levels of Malassezia spp. composition while patients struggling with incontinence were inversely correlated with Wickerhamomyces spp.
The researchers concluded that the urinary microbiome is altered inpatients struggling with lower urinary tract symptoms, and that the loss of diversity in the microbiome correlated with worsening symptoms. Specific fungal patterns were found in patients with the symptoms of bladder pain and urinary urgency but interestingly this did not correlate with a diagnosis or medical condition. The researchers concluded, "These results suggest the intriguing possibility that particular microbial patterns maybe associated with specific symptoms, not necessarily diagnoses. This could lead to new diagnostic and treatment algorithms for patients struggling with lower urinary tract symptoms." Clearly, there is a need for greater testing for fungi in urine screening. Bacteria may not be the root problem in some patients. It is time to consider the roll of fungus in bladder dysfunction.
Adapted from Jill Osborne 8/10/17 Interstitial Cystitis Network Blog, Research https://www.ic-network.com/mapp-research-network-study-finds-fungus-urine-might-linked-urinary-urgency-pain/
References:
Osborne J. Could IC Flares Be Caused By Candida – New research study finds higher rates of candida rather than bacteria during IC flares. IC Optimist Winter 2016.
https://www.ic-network.com/could-flares-be-caused-by-candida/
Osborne J. The DIPP Mystery – Why are IC patients deficient in some good bacteria. IC Optimist Summer 2016.
https://www.ic-network.com/dipp-mystery-ic-patients-deficient-bacteria-gut/
Journal of Urology, April 2017 Abstract MP29-10 Alterations in the Urinary Fungal Mycobiome in Patients with Bladder Pain and Urinary Urgency
https://www.ic-network.com/mapp-research-network-study-finds-fungus-urine-might-linked-urinary-urgency-pain/