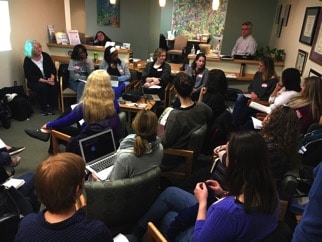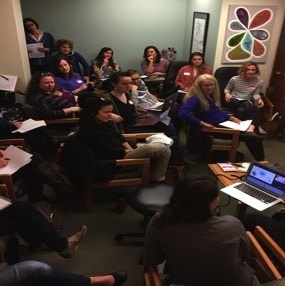 Restore Motion hosted the DMV Pelvic Health Study Group Saturday, January 27th. There were over 23 attendees from DC, Maryland, VA and WV! Our guest presenter was Dr. Rachel Rubin a urologist who specializes in sexual health. We were thankful for the chance to discuss scholarly articles and challenging patient care issues with Dr. Rubin.
One sensitive topic discussed was the general outrage about the sexual abuse by USA Gymnastics Team physician, Larry Nassar . His actions put legitimate treatment of the pelvic floor in questionable light for the general public. (See link to article below by a pelvic floor PT and doctor of Physical Therapy.)
This determined group of therapists and physician want to speak out for the necessity of pelvic health and sexual health education for all ages. We also enjoyed catching up with and meeting our colleagues and friends. Always good to put a name with a face!
We plan hold more events that bring our network of colleagues closer together to help our patients. It often takes a team of practitioners to heal pelvic dysfunction and sexual trauma. Physicians (urologists, gynecologists, colorectal, gastroenterologists), physical therapists, mental health therapists, nutritionists and sex therapists refer to each other to promote each patient's healing and well being.
Written by: Miriam Graham, PT, DPT, MBA
Nassar's Atrocities Stigmatize A Legitimate Medical Treatment article by Lori Mize, PT, DPT