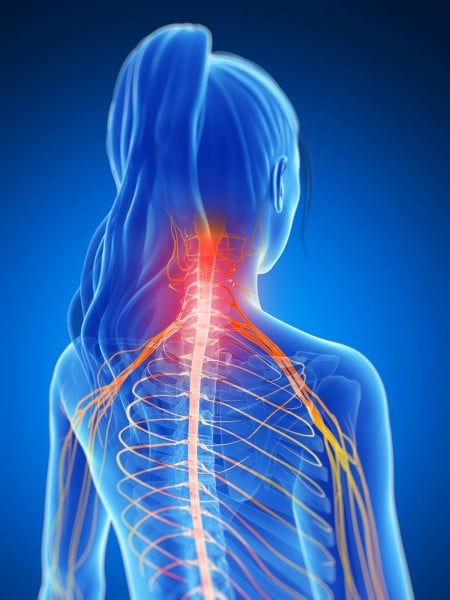 Neck pain is a common reason for doctor visits. It is so common that the topic made it to the Washington Post recently in an article titled "What you need to know about that pain in your neck."
Here are some facts about neck pain:
A common cause of neck pain is poor posture during work, rest or leisure.
Lifting or carrying heavy objects can strain muscles connecting your arm/shoulder and neck.
Even light weight (or un-weighted) repetitive motions can cause neck pain.
Excessive tension or stress frequently causes us to hold our jaw, neck and shoulders in a way that leads to pain and headaches.
The joints of the neck allow a great deal of motion. That is why necks are vulnerable to injury with trauma.
What you need to know before you go to the doctor:
Majority of neck pain episodes resolve in 2-3 weeks without imaging studies.
The older we are the more likely neck pathology will be seen on imaging studies even on those people without neck pain.
Over the counter analgesics (Acetaminophen, Ibuprofen, Naproxen Sodium) are more effective in treating neck pain than muscle relaxants.
Sleeping with too many pillows or a pillow that is too firm can cause neck pain.
What you can do:
Use heat or cold pack to soothe muscle aches. Use the type that feels best to you.
Decrease unnecessary weight in your handbag, book-bag or briefcase.
Remind yourself to relax your neck, jaw and shoulder muscles while trying to maintain good posture.
Consider Physical Therapy to help improve muscle and joint balance via exercises for your neck and shoulder girdle.
If pain has not resolved in time, or if your pain was caused by trauma, see your physician or urgent care clinic.
Written by: Miriam Graham, PT, DPT
Edited by: Claire Agrawal, PT, DPT
Photo Credit:
http://media2.mindandbodychiro.com.au/wp-content/uploads/2015/01/img-neck-pain-spreading-shoulders-450×600.jpg
Link to Washington Post article:
https://www.washingtonpost.com/national/health-science/what-you-need-to-know-about-that-pain-in-your-neck/2016/04/11/5666e97c-a2a3-11e5-b53d-972e2751f433_story.html