Pelvic Floor Clinic: Friday, March 18th, 2022
Restore Motion physical therapy, Dr. Rachel Rubin, MD and Dr. Annina Burns, PhD/RD Simplina nutrition unite for an interdisciplinary team approach to diagnose and treat pelvic pain and dysfunction.
What to expect–a private and specific diagnostic new patient appointment that includes a thorough history and physical exam. Three experts from different disciplines listen and examine you. Have your symptoms heard and evaluated.
Pelvic Floor Dysfunction is a common medical problem that affects both women and men including:
Pelvic Floor (muscles in the "saddle area") Tension/Pain
Urinary / Fecal Incontinence (leakage)
Abdominal Pain
Constipation
Interstitial Cystitis (bladder pain)
Pregnancy / Post-Partum issues (women)
Dyspareunia (painful intercourse)
The Pelvic Floor Clinic is an opportunity for people struggling with pelvic dysfunction to be evaluated by professionals who specialize in pelvic dysfunction. A physician, physical therapist and a nutritionist will collaborate in real time to create a specific plan of care which addresses the medical, physical and nutritional challenges that contribute to your dysfunction.
When you come for your private evaluation, all 3 providers (doctor, physical therapist, and nutritionist) will be present during your session. You will leave with a detailed summary, recommendations, and insight for how to proceed in your recovery. There are a limited number of appointments still available. Call (202) 888-6731 to register.
Diagnoses include but are not limited to: pelvic floor tension/pain, urinary/fecal Incontinence and voiding problems, abdominal pain, constipation, pregnancy/post-partum pain, pubic pain, and Interstitial Cystitis (IC).
Each client receives up-to-date information and an individualized plan of care.
Open to new and existing patients.
Pelvic Floor Clinic Dates:

Friday March 18th, 2022
Friday, April 22nd, 2022

Dr. Rachel Rubin is a board-certified urologist and sexual medicine specialist. She is an assistant clinical professor of Urology at Georgetown University and works in a private practice in Washington DC. She is one of only a handful of physicians fellowship trained in male and female sexual medicine. Dr. Rubin is a clinician, researcher, and vocal educator in the field of sexual medicine. She completed her medical and undergraduate training at Tufts University, her urology training at Georgetown University, and her fellowship training under Dr. Irwin Goldstein in San Diego. In addition to being education chair for the International Society for the Study of Women's Sexual Health (ISSWSH), she also serves as Associate Editor for the Journal Sexual Medicine Reviews.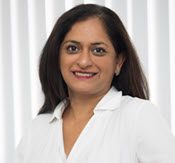 Reshma Rathod, PT is the co-founder of Restore Motion and physical therapist specializing in pelvic dysfunction, manual therapy and sports medicine. Reshma assesses the body to identify compensatory patterns that cause and contribute to pelvic pain and dysfunction. She uses a combination of manual therapy, muscle re-education, biofeedback, dry needling and exercise to restore mobility and function. She earned her Master of Science in Physical Therapy from Thomas Jefferson University in 1994, MBA from Loyola University in 2001. She is one of a handful of Primary Care Providers for the international Women's Tennis Association.

Dr. Annina Burns is a registered dietitian (RD) and a licensed nutritionist. She is an expert in using nutrition and holistic medicine to support pelvic health and pain management. She has also been certified in Food as Medicine and Mind-Body Medicine and was the first PhD/RD nutritionist in the country to be certified in functional medicine from the Institute for Functional Medicine (IFM). She completed a four-year degree program at Penn State in nutritional sciences and holds an MSc and PhD from the University of Oxford in the United Kingdom, where she was a Marshall Scholar. All of this gives her a unique ability to put together the complex pieces of the pain puzzle and help you achieve optimal health.
What are patients saying about Pelvic Floor Clinic?
"All doctors were extremely patient and sensitive to the frustration and pain I had been experiencing—particularly due to extensive urological testing that provided no answers to my pain."
"Glad I attended it because it encouraged me."
"After spending over a year trying to find an answer to my pelvic pain, the doctors at the Pelvic Floor Clinic (with the aid of ultrasound) were able to correctly diagnose the problem. I immediately started therapy and after 1 month of treatment, I am so much better. I cannot believe the difference and living with less pain has made a remarkable breakthrough in my physical and mental well being."
"Very useful, especially concerning path forward and options when/if other traditional methods fail."
"Very helpful getting definitive diagnosis."
"Good getting actionable plan."
"Very Helpful."
"It was a wonderful option to have. I applaud you for having this opportunity for patients like myself."
To reserve a spot for the clinic, please call our office at
Call (202) 888-6731
, or
Contact Us .
We are honored that nationally recognized care centers, such as the Mayo Clinic and The Johns Hopkins Hospital, frequently refer pelvic pain patients to RESTORE MOTION for local follow-up care.